CCPS will be closed Monday, September 4, 2023 in observance of Labor Day.

There will be a Special Called Meeting of the School Board of Craig County Public Schools on Thursday, August 31, 2023 at 3:00 pm in the auditorium. The purpose of this meeting is to appoint a new Superintendent of Schools.

The Varsity Rocket Football Celebration and game scheduled for Friday, September 1, 2023 has been rescheduled. Please come out and join the Rockets for our first home game and ribbon cutting on Friday, September 8, 2023 at 7 pm. Thank you!

The National Weather Service has projected extremely high heat indexes for tomorrow. Due to current construction projects involving air conditioning, CCPS will be closed on Friday, August 25, 2023.

All CCPS students will receive free breakfast and lunch for the 2023-2024 school year! This is possible through the Community Eligibility Program (CEP). Please encourage your child to take advantage of this great opportunity to receive healthy meals every day! 🍎🥦🧇🍕🍔🌭🥛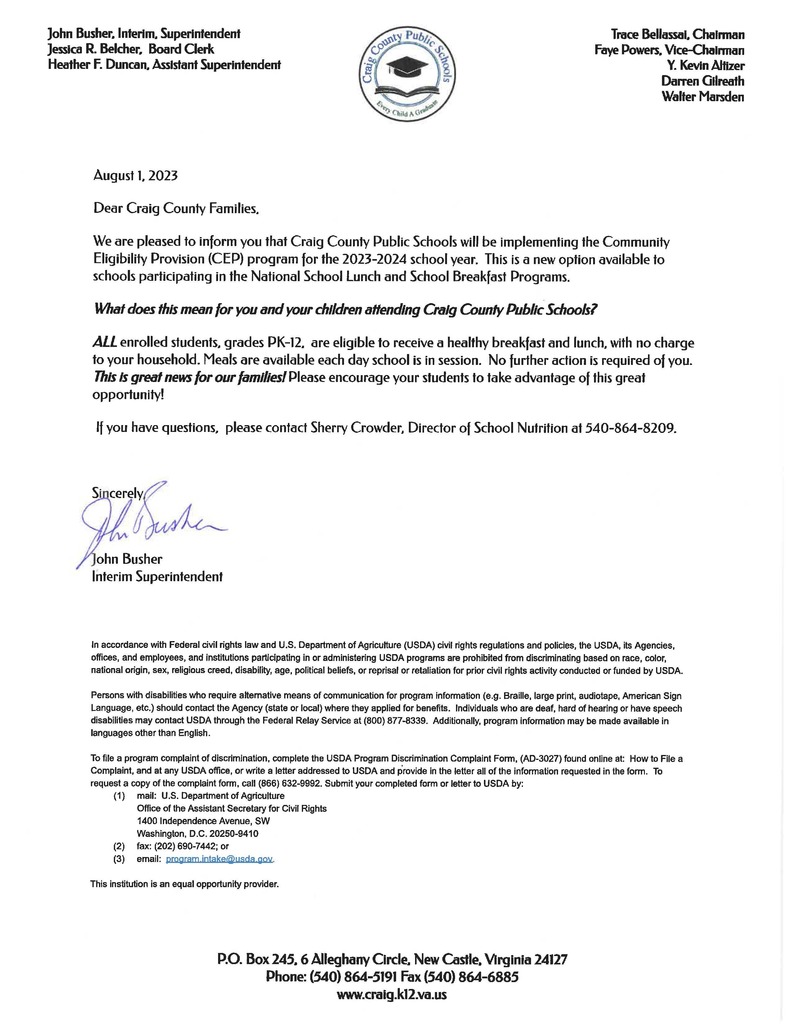 Please see letter for Students and Parents/Guardians regarding Chromebooks for 2023-2024 School Year.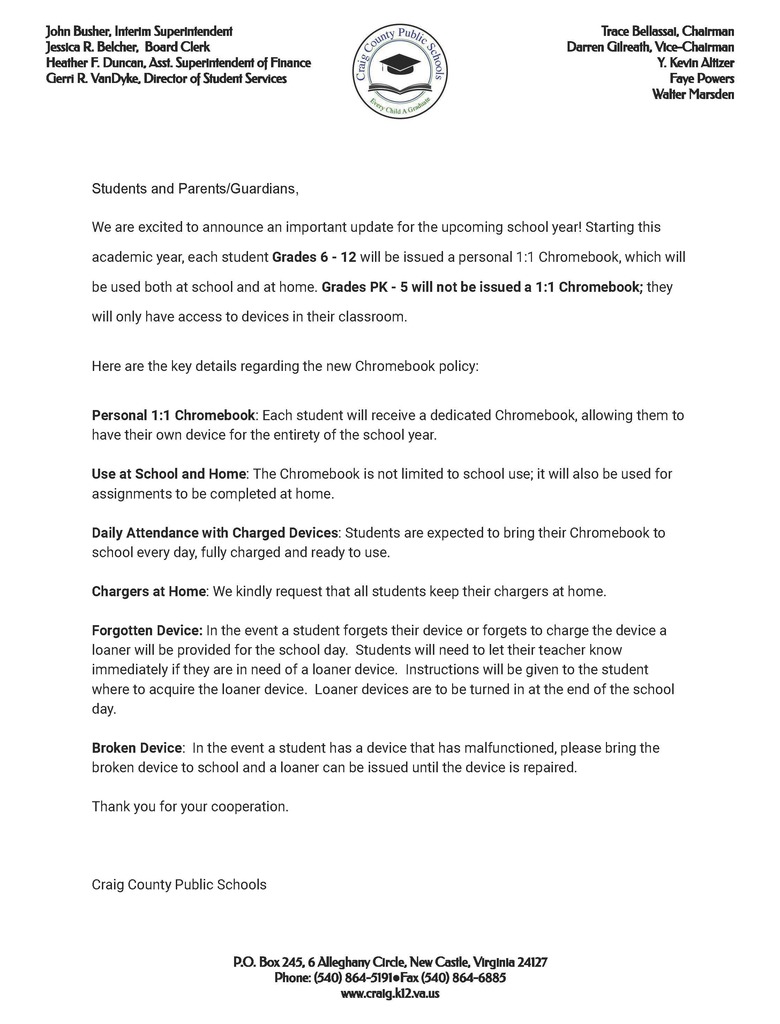 The Craig County High / Middle School Sports meeting has been rescheduled for Monday, August 14th at 6:15 pm in the High School auditorium. Thank you!

For more information on HB2025, please contact the Office of Policy via phone (804) 225-2092 or via email at
policy@doe.virginia.gov
.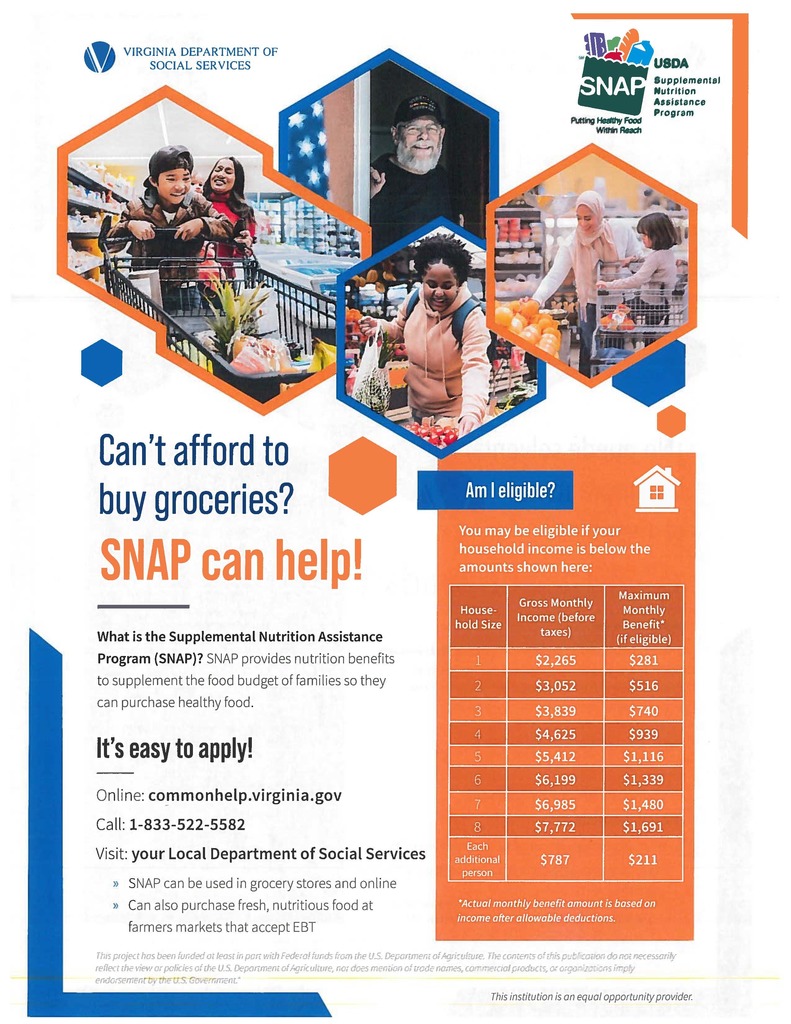 URGENT: Severe & dangerous weather in our region. CCPS offices/buildings closing at 12:30 PM today. ALL events, open houses, and practices are canceled. ALL events scheduled for today will take place tomorrow, August 8, 2023 for the same times.

Craig County Public Schools will host the following events on Monday, August 7, 2023: PreK / Kindergarten Open house will begin at 10:00 am in the auditorium. McCleary, CCMS, and CCHS will host Open House from 3:00 pm to 6:00 pm and the Fall Sports Meeting for grades 6 through 12 will begin at 6:15 pm in the auditorium. We look forward to seeing you there!

Tonight's School Board Meeting, July 18, 2023 will be rescheduled for a later date due to a lack of quorum as required by the Code of Virginia.

There will be a Special Called School Board Meeting Monday, July 10, 2023 at 11:00am for the purpose of discussing Superintendent search in the Craig County High School Auditorium.

Get your child ready for Kindergarten!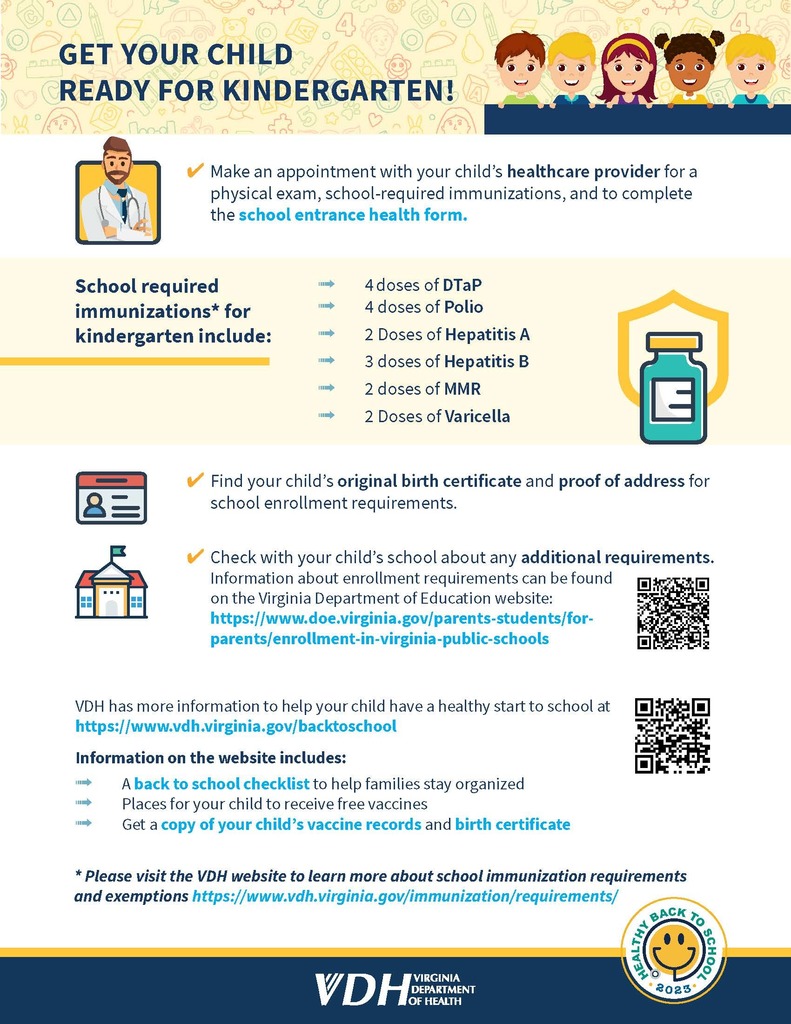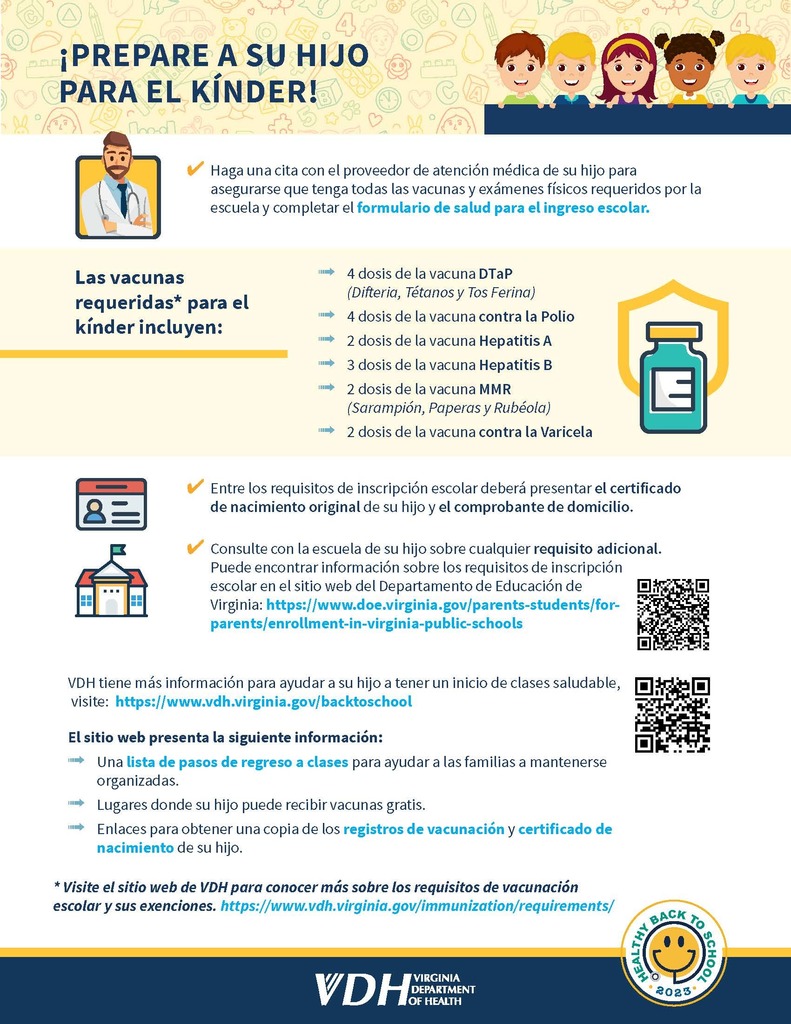 United Way of Roanoke Valley is striving to help even more people in our community! United Way of Roanoke Valley is striving to help even more people in their community! This year, they are expanding their reach into Craig County! The Day of Action for Craig County is June 21, 2023 from 9:00 AM - 3:00 PM. We need volunteers for that day! If you can help out, please complete the sign-up form at the following link! Let's show our Comm-UNITY support!
https://uwrv.jotform.com/231035798577165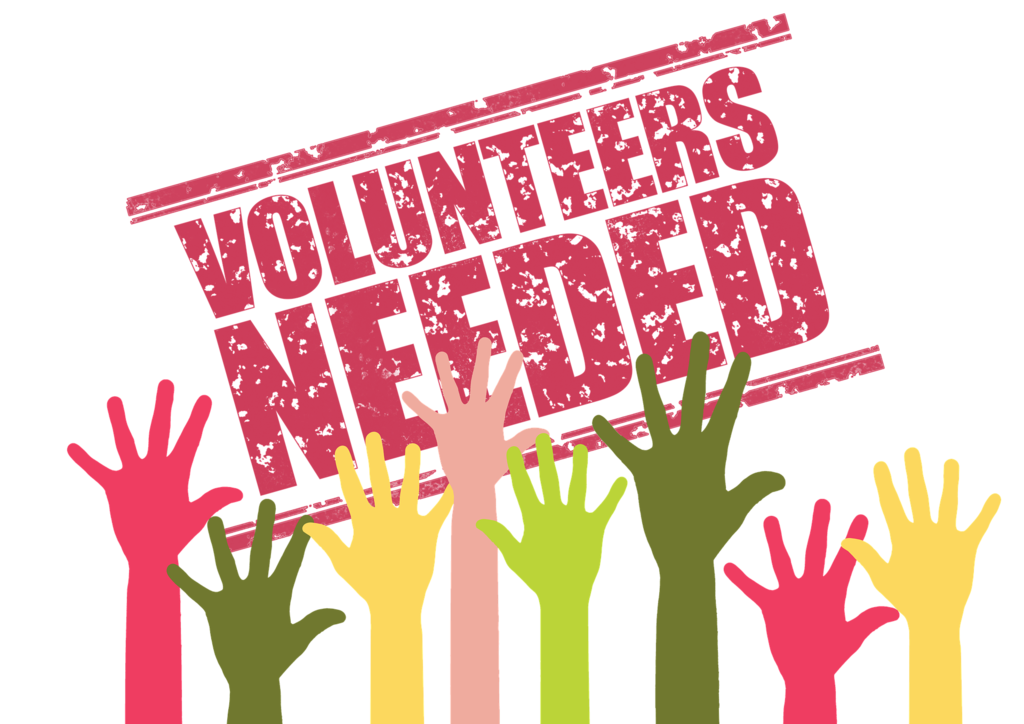 CCPS after school student activities have been cancelled this evening Tuesday, May 16, 2023 due to pending weather.

This week is Teacher Appreciation Week! Please join me in recognizing our outstanding teachers!

Craig County School Board Announces Superintendent Search The School Board would like your input on important qualifications for our new superintendent. Please fill out the form by link below to provide your anonymous feedback. Thank you!
https://www.surveymonkey.com/r/craigsearch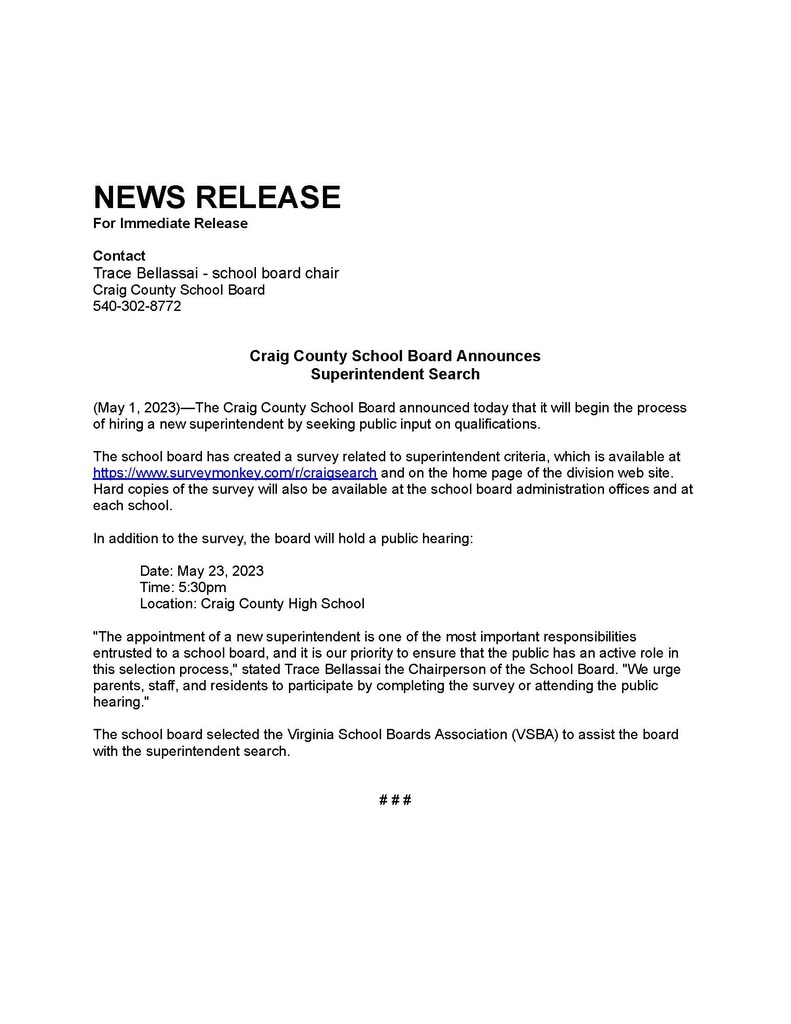 Craig County Public Schools is accepting applications for the position of Finance Specialist. Job responsibilities include but are not limited to accounts payable, payroll, new employee onboarding, and reconciling accounts. You can apply by clicking the Employment Opportunities button on the CCPS main page. Please reach out to Heather Duncan at (540) 864-5191 if you have questions.

Please join us in thanking our Administrative Professionals for the outstanding job they do every day!